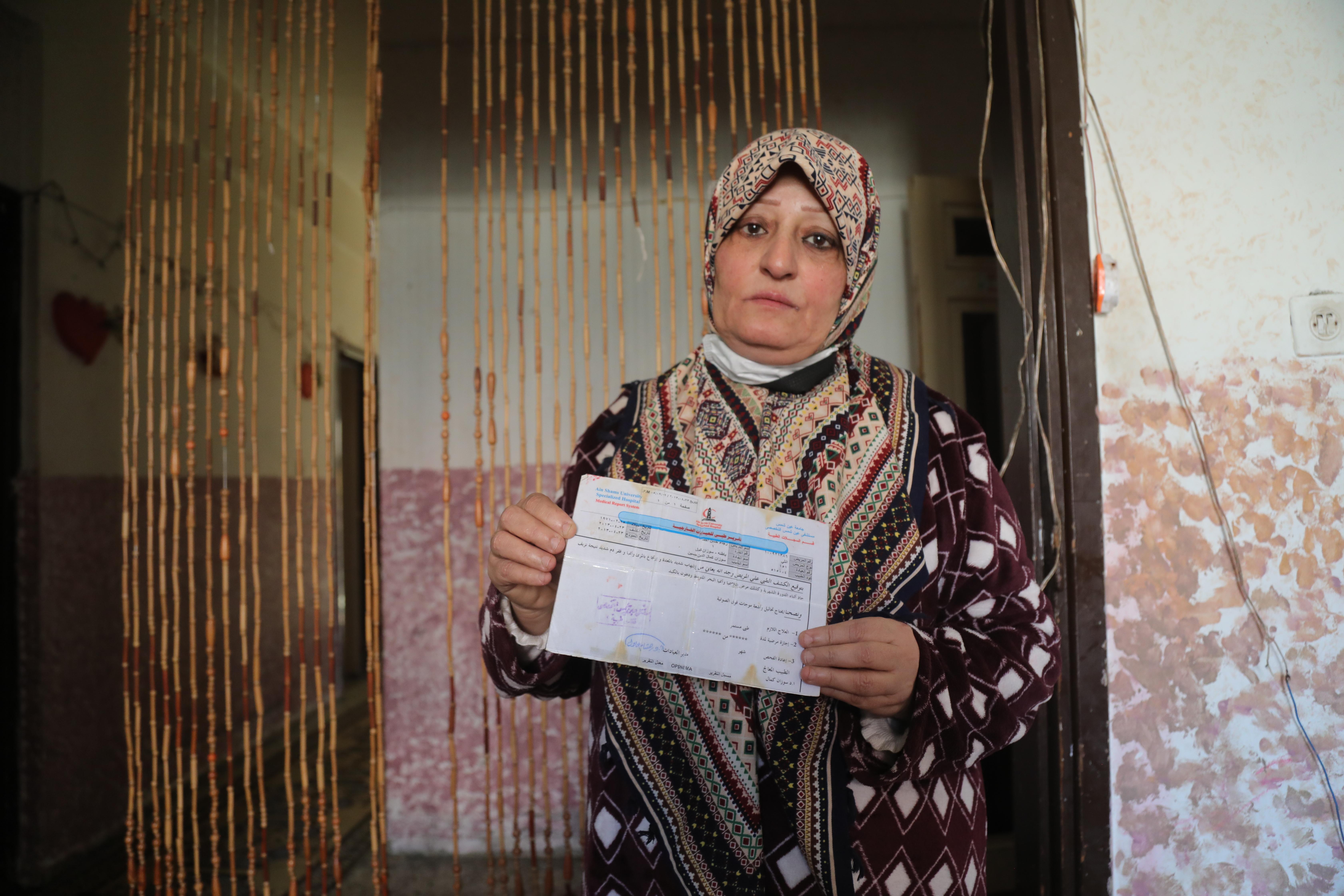 51-year-old Rajaa Hasan Al-Naqla is the head of her family. She is living in a small four-roomed home in eastern Gaza city with 24 members of her family. Rajaa's seven daughters, three sons and their combined 14 children not only live with her, but depend on her.
Life in Gaza is difficult for millions of people. 2.45 million people out of the 5 million population are in desperate need of humanitarian aid, living without food, clean water or sources of income. Decades of conflict has led to millions of people losing their homes, and one quarter of all Palestinians are still living in the broken rubble of their former homes. Covid-19 and subsequent financial crises have pushed even more people into poverty and hardship.
For Rajaa, the burden of responsibility of her large family is placing immense pressure on her, and her health is beginning to deteriorate. Three of Rajaa's daughters came home to live with her in her small house as their marriages broke down under the pressure of economic hardship and failure.
"I used to live in a [bigger] rented house before this one, but the owner has evicted us from it by order of the court. I owed him a rent of 1500 dinars in addition to the accumulated electricity and water bills that I couldn't pay," she recalls.
Rajaa continues to worry about being able to afford the rent of their current home. Her own health is worsening and she is now suffering from liver disease, anemia, thalassemia and diabetes. Still, she strives to provide for her family.
Hardship upon hardship
"The police came and kicked me out of the house and imprisoned my husband. Now I live in this new rented house, and the cost of renting it is $200, but my husband is sick and I cannot pay the rent myself. My eldest son has cancer, and the second is sick with liver disease," Rajaa tells us.
"The owner of the new house is threatening to evict us as well if I do not pay the rent, but I am helpless and cannot pay. For five months I have not paid the rent and the owner of the house has been patient with us because he knows that I live with my divorced daughters and their children and he sees how tragic the situation is. Even I don't have gas to cook or good things for the kitchen, I wish I had a good kitchen at least."
Salsabeel's story
Salsabeel is one of Rajaa's daughters who has been divorced from her husband. She has two young children, and left her husband as she was a victim of domestic violence. Salsabeel's husband is one of millions affected by the high unemployment levels in Gaza, and was unable to work to support his family.
"I depend on the support I receive from charities, and from my family to raise my two little kids," Salsabeel says.
"My children ask for daily pocket money to go to school, they ask for good food, good clothes, and many other things, but I can't afford their needs as my family is poor and their father isn't working to send them money." Salsabeel.
Salsabeel wishes she herself could work so she can provide for her children and give them the childhood they deserve. She worries about the health of her children and her nieces and nephews, as they simply do not have enough good to eat.
"We are three women. If we could work, this would make a change to our family, but we are unfortunate that we didn't finish our education and can't find any possible chance to work. I tried very scarce. " She says.
Noor's Story
27-year-old Noor is Rajaa's other daughter, and is also divorced. Her 11-year-old Saleem has severe nerve problems which affect his eyesight. He suffers from a number of medical problems including pelvic crookedness and crooked feet.
" The Ministry of health gave me a transfer to Israel for his treatment. I went many times, but now I can't afford the cost of traveling with him to complete his treatment." Noor tells us.
She added, "I cry with my son when he feels sad or needs something I can't afford. His left eye needs treatment, he can't walk properly and needs treatment, and I feel disabled with him as I can't do anything for him."
A glimmer of hope
Al Mustafa Welfare Trust have provided Rajaa's family with nutritious food parcels with the hope of tackling hunger and providing the family with ease.
"Thanks to the food package we received from your charity, now I can cook them some meals for a few days" says Salsabeel.
There are countless families like Rajaa's experiencing unimaginable hardships and going hungry in Gaza.
We must break the hunger.
Donate today to our Break the Hunger campaign and provide life-saving food to vulnerable families. Your donations will help save lives.