<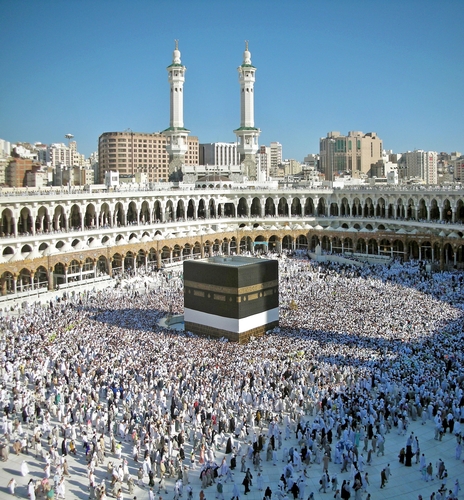 It is obligatory for all able, qualifying Muslims to complete the annual pilgrimage of Hajj, the fifth Pillar of Islam, at least once during their lifetime.
Hajj takes place in Dhul Hijjah, the last month of the Islamic lunar calendar. Hajj 2019 is expected to fall on or around Friday 9th August* and last until Wednesday 14th August*.
The festival of Eid ul-Adha also occurs around this time, when Muslims will come together to pray, worship, and perform Qurbani to show their devotion to Allah (SWT).
*These dates are subject to change depending on the sighting of the moon; we would advise you confirm exact dates and timings with your local Mosque or Imam closer to the time.
What is Hajj?
Hajj is the annual pilgrimage to Mecca that all qualifying Muslims are expected to make at least once during their lifetime.
In order to qualify, the individual must meet the following criteria:
Be an adult
Be of sound mind and body
Be financially able to complete the pilgrimage
Once a Muslim has completed the pilgrimage, they are able to add the title 'Hajji' to their name.
Of course, pilgrims can travel to Mecca to worship at any time of the year. This voluntary pilgrimage is known as Umrah and, unlike Hajj, it is not an obligation and does not have to be completed on any particular dates in the Islamic calendar.
The Origins of Hajj
The rituals performed during Hajj were first established by the Prophet Muhammad (PBUH) but can be traced back to the Prophet Ibrahim (A.S).
Allah (SWT) told Prophet Ibrahim (A.S) to leave his wife Hajar and son Ismail in the desert of Mecca, alone. Desperately looking for water, Hajar ran between the hills of Safa and Marwah seven times – but she still could not find any water. As she returned to Ismail, in despair, she saw her infant son scratching the ground. A fountain of water sprang forth at the site where Ismail had scratched at the ground.
The Well of Zamzam in the Masjid al-Haram in Mecca is an important place to visit during Hajj and Umrah. Pilgrims still visit this site today to drink water from the well and worship.
Today, it is estimated that 2-3 million people travel to Mecca to complete Hajj each year. This is the single largest gathering of people around the world.
Hajj Checklist
If you are privileged enough to be performing Hajj this year, it's important to make the most of the upcoming journey.
To help you out, we have compiled a handy checklist featuring all the essentials you should pack to bring with you on your pilgrimage.
Passport and important travel documents
Money
Your mobile phone, charger, and travel adaptor
Travel first aid kit and medication
Ihram clothing
Everyday clothing
Practical footwear
Water bottle and snacks
A towel
Essential toiletries
A small Qur'an
Dua books
A notebook and pen
A prayer mat
Sunglasses, a pocket fan, a travel umbrella, and a sun hat (for the gentlemen) to keep cool
Hijab or pashminas, if applicable
Hajj Preparations
Of course, preparing for Hajj is about far more than just packing your bags ready for the journey. This pilgrimage will be one of the most important, significant journeys that you will make in your life, and as such, it's vital to ensure you are fully prepared for what is to come.
To ensure a successful Hajj, it is important not only to prepare beforehand, but also to practice patience and worship throughout the pilgrimage, and to apply what you have learned during Hajj to your daily life once you have returned home.
Physical Preparation
The above checklist for what to pack and bring with you on your pilgrimage is one part of your physical preparations, but there is plenty more that you can do to ensure you are fully prepared for Hajj.
As the chances are that you will be doing a lot of walking during your pilgrimage, it's a good idea to up the distance you are walking on a regular basis before you travel in order to increase endurance and get in shape ready to make the most of the journey.
On a similar note, you should try to avoid burning yourself out during Hajj. Pacing yourself is essential to avoid getting worn out, which could lower your immune system and cause you to become more susceptible to illness – the last thing you want!
Last but certainly not least, you need to ensure you are fully prepared for the hot weather and, if applicable, the change in the climate. Bring at least one bottle of water with you at all times to stay hydrated and packing a selection of healthy snacks can also keep you sustained during the day.
Mental Preparation
In addition to making your physical preparations, it's important to schedule your time to maximise the time you have available and avoid missing out. As a first time Hajji, it's understandable to be unfamiliar with all the required rites and rituals, so make sure to do plenty of research before you travel and don't be afraid to ask for help.
It is also important to get into the right frame of mind before you begin your pilgrimage. You must open your mind and surrender yourself to Allah (SWT) in order to complete the journey and become a Hajji. Try to keep distractions to a minimum and focus on your own spiritual journey rather than that of others.
It is also recommended to use the day of Arafah for worship and prayer. Make dua, seek forgiveness, and stay as focused as you can to strengthen your relationship with Allah (SWT). Use the day to read and recite the Holy Qur'an, worship, and perform tawaf (walking around the Kabah seven times).
While preparing for Hajj is essential, it's also worth keeping in mind that every Hajji has a different experience of Hajj. Do what you can to make the most of your own experience of Hajj, savouring the knowledge and blessings that this Holy journey can bring.
If you are not fortunate enough to be undertaking the pilgrimage of Hajj this year, then you can find out more about donating your Qurbani with Al Mustafa Welfare Trust here.