Indonesia, located in Southeast Asia, is a diverse group of volcanic islands that sadly, are often at risk of suffering natural disasters. As a result of this, the people who call this island nation home face a constant struggle for survival.
Our Indonesia disaster appeal supports the innocent citizens who have been caught up in the many natural disasters facing their country – through no fault of their own. Facing issues ranging from food shortages to a lack of vital medical aid, many of those in the worst affected areas are isolated and have been cut off from the essential supplies they desperately need to survive.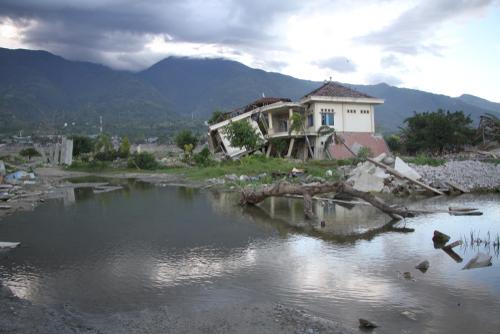 Although we cannot predict when disaster will strike next, it's important to be fully prepared and ensure we are in the best possible position to be able to assist those in the greatest need. But what is the situation with Indonesia, and why does the nation suffer so many natural disasters? Al Mustafa Welfare Trust is here to explain more.
What is the Situation?
The largest island country in the world, Indonesia is no stranger to devastating natural disasters including earthquakes, tsunamis, and volcanic eruptions. Indeed, there has been evidence of both earthquakes and volcanic eruptions found dating back to the 13th-Century, proving that this is a long-standing concern for the people living in Indonesia.
On average, a minimum of one major natural disaster a month has struck Indonesia since the devastating 2004 tsunami. Widely known as 'The Boxing Day Tsunami', this shocking tsunami hit the vulnerable island nation on 26th December 2004, leaving a widespread trail of destruction across the Indian Ocean and beyond.
Of course, this was far from the first natural disaster to strike the nation, but the sheer scale of devastation it left was on a scale that Indonesia had never been seen before.
These frequently occurring disasters have left countless problems in their wake, resulting in further issues for the Indonesian citizens.
Most recently, a series of natural disasters struck Indonesia at the end of 2018. A 7.5 magnitude earthquake and tsunami hit the island nation on 28th September 2018. More than 800 people were confirmed dead, with countless more missing and injured. Following that, another tsunami hit Indonesia in December 2018, causing further misery and devastation for the nation's vulnerable citizens.
Why is Indonesia So Prone to Natural Disasters?
In short, Indonesia is prone to natural disasters because of its location. Being an island nation, the ocean understandably plays a pivotal role in the country's way of life, yet it also leaves Indonesia highly vulnerable to natural disasters like tsunamis.
In addition, Indonesia is located on the Ring of Fire, a horseshoe-shaped area in the Pacific Ocean that is highly prone to natural disasters like earthquakes and volcanic eruptions. To put that into perspective, the Ring of Fire is home to a staggering 90% of the world's earthquakes and 75% of its volcanoes.
This means that Indonesia's geography is by far the biggest reason for the high number of natural disasters that the nation suffers.
The Effect of Natural Disasters in Indonesia
Living life with the constant threat of another natural disaster on the horizon has caused a wide range of concerns for the nation's residents over the years.
Hundreds of thousands of innocent lives have been lost, with countless people injured. In addition, homes and buildings have been damaged or even destroyed, communities isolated, and infrastructure ruined.
Much of the Indonesian population is suffering from the effects of poverty, and the need to constantly repair and rebuild after each natural disaster is taking its toll on the economy. Causing both human and environmental impacts, Indonesia is a nation struggling to cope with the devastating consequences of its natural geography.
Donate to Our Indonesia Disaster Relief Appeal
Al Mustafa Welfare Trust is well aware of the problems that Indonesia is facing. From shortages of nutritious food and essential medical supplies to damaged infrastructure, these people are being hit hard when they are already vulnerable – and nobody knows when the next disaster will strike.
These innocent people desperately need our help in order to overcome the struggles that they are faced with on a daily basis. Your generous donation will help our Indonesia Disaster Relief Appeal reach out to even more people in the worst affected areas, providing life-saving essentials that really could make a significant difference.
Although we may never know exactly when the next natural disaster will strike, we can ensure that we are fully prepared to help as many people as possible overcome its impact. Please give generously and help us to provide a real lifeline to some of the most vulnerable Indonesian citizens in their greatest time of need.
With your ongoing support, we can continue to fund food packs and emergency relief packages to give those who are most vulnerable the best possible chance of survival.
Donate to Al Mustafa Welfare Trust's Indonesia Disaster Relief Appeal today and do your bit to support your vulnerable brothers and sisters around the world.