"He who supports an orphan from amongst his own or any other family, will be as close to me in Heaven as this (entwines fingers together)."

- Holy Prophet Muhammed (PBUH)
Here at Al Mustafa Welfare Trust, we believe children are the future and it is important to nurture and support the children of tomorrow, today.
Sponsoring a child is life-changing for more than just the child you are sponsoring. As a youngster picks up skills and education, this can have a huge impact on their entire community as a result.
Transforming Lives
When you sponsor a child with Al Mustafa Welfare Trust, your donation goes towards giving the child sufficient nutrition, shelter, a good education and healthcare, along with the emotional support they need in order to prosper.
Not only do you get an insight into a child's life, you begin a new journey with them and see what a significant difference your support can actually have.
Here is just one of the many orphans you have helped us to support:
Sarmin Begum, Bangladesh
Growing up in the rural area of Sylhet, Bangladesh, a place where women and girls are dependent on men for their livelihood, Sarmin Begum never once dreamt that she would one day be pursuing a Bachelor's Degree in Science.
Sarmin, an orphan girl, lived with her mum and four siblings - who all tragically lost their father not long before. Following support from the Al Mustafa Welfare Trust Orphan Sponsorship Programme, along with encouragement from her mother, Sarmin overcame many obstacles to gain a decent education.
Walking 8km daily to Shah Jalal Latifia School, she attended open air lessons in all weather conditions, scrambling with her classmates for the few textbooks that were available to study from.
Sarmin was among the first children from Shak Para, Sylhet, to be enrolled as a sponsored child under the Al Mustafa Welfare Trust Orphan Sponsorship Programme. With your help, we were able to provide her with school uniform, education fees and learning materials and we supported her community to build new classrooms for the school.
Sarmin passed her high school examinations and went on to study for a Bachelor's Degree in Science. Her passion for education has led her to pursue a Masters in Development Studies.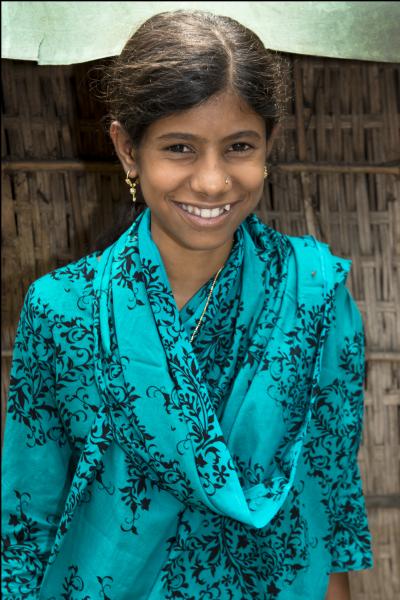 The Future is Theirs
Support girls like Sarmin and give a child scope for a better future; donate with Al Mustafa Welfare Trust today and see for yourself what a difference a child can make.