Solar Water Well
With programming in over 160 countries, a number of solar solutions have been implemented, with varying results and outcomes. However, more research is still needed to know if such solutions can be scaled up and at what magnitude to contribute to achieving the global Sustainable Development Goals (SDGs).
Objectives
To take stock of progress made so far by learning from in-country experiences (successes, challenges, and overall programme sustainability)
To assess whether the systems are a viable method of accelerating Sustainable Development Goal 6
To give recommendations for future scale-up potential
The majority of current systems are small in size (<2,000 beneficiaries) and are located in schools, communities and healthcare centres. Multi-village systems are also being piloted. This programming aims to reach those with the worst access, but we are also upgrading hand pumps and diesel systems. Most utilise a community-based management system, meaning that the community is responsible for all repairs following installation.
Solar Water Pumping Systems: The Technology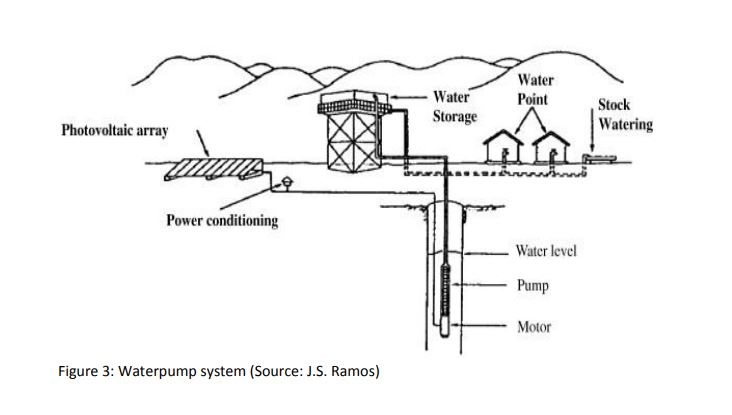 Solar systems have been in mass production since 1983 – it's only recently that they've become affordable, efficient and versatile.
Solar water pumping systems are a climate-smart investment because:
They generate no emissions (unlike diesel pumps)
They are well suited to tropical climates and isolated off-grid communities
However, to maintain a continuous supply of water, it's important to have a water storage buffer or a backup battery system to pump without needing to rely solely on the sun.
The Costs
The price of solar-powered systems, especially solar panels, has decreased substantially in the past 30 years. However, solar system components are still 10-15% more expensive on average than other mechanised systems (grid or motorised). Significant price variations exist depending on local market conditions. However, over a 20-year period, a motorised pump costs around five times as much to maintain than a solar pump due to the cost of maintenance and fuel.
The Demand for Solar Water Supply Technology
In the four countries studied, solar-powered systems were found to be popular with communities, government and private sector partners. Al Mustafa Welfare Trust staff and implementing partners also favoured the use of solar-powered systems in their programmes, largely due to the low running costs and long-term durability.
Operation and Maintenance
Durability
Solar powered systems were found to be more durable than hand pumps and motorised systems where they were correctly installed and dimensioned. The majority of the systems visited had never experienced a major malfunction. However, when breakdowns did occur, issues tended to be minor but took a long time to fix, due to limited local capacity and difficulties accessing spare parts.
Water Supply
The majority of systems were found to provide sufficient water for most of the year. However, 53% of systems experienced issues with seasonality and were unable to provide sufficient water to meet the demand for 1-7 days a year. Improving dimensioning (e.g. storage) or reverting to a back-up generator when demand is very high is one way to overcome this issue. Only 6% of systems struggled to provide sufficient water year-round, and this was found to be mostly due to poor dimensioning and/or borehole siting.
Capacity
The most common "severe" causes of malfunction were related to poor borehole siting and construction. The Al Mustafa Welfare Trust team in Pakistan (2017) found that up to 29% of solar powered systems had problems with dry boreholes. Also, existing boreholes were often selected without sufficient hydrogeological testing. We noticed that the operation and maintenance plans only existed in a few communities - in rural areas, operation and maintenance guidance manuals are not always easy to use locally.
Conclusions
Solar powered systems perform well in terms of flow rate and durability, where sunlight is plentiful, boreholes are well sited, and systems are correctly dimensioned
There is the potential to ensure greater resilience in the poorest communities, leaving them less dependent on fuel supply, which can be easily disrupted and vulnerable to corruption
They provide the opportunity to move up the water supply ladder and provide a higher level of service to communities in tropical regions, particularly in off-grid, rural communities
The effective collection of user fees (including provision for the poorest) is absolutely vital in order to ensure sufficient reserve fees to cover the high potential cost of breakdowns
A significant investment is required in order to build both public and private sector capacities to successfully install and manage systems, strengthen markets and improve accountability