Spreading festive cheer for those most in need
This year, the Coronavirus pandemic has taken so much from us. It has caused us loss and heartbreak; shielding and isolation, and left many financially struggling and unemployed all around the world. So far, there have been over 60 million confirmed cases of COVID-19 worldwide and sadly, over 1.4 million people have lost their lives due to this virus. A recent spike in cases caused by a severe mutation of the virus has placed even greater pressure on us in the UK, with a higher, more severe tier being announced in London and more widely and plans for the festive season for families being cancelled all over the country.

However, in times of hardship, we come together, find solace in our faith and reach out to help those in need. The Prophet (ﷺ) said, 'Give charity without delay, for it stands in the way of calamity' [Tirmidhi]

Al Mustafa Welfare Trust has distributed Covid-support packs with food, toothpaste, toothbrushes and chocolates to some of the most vulnerable people in London.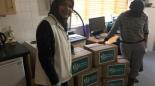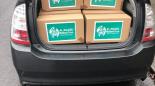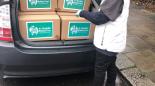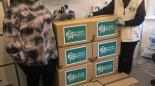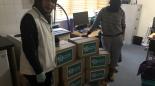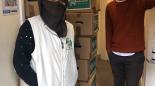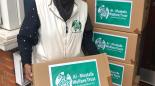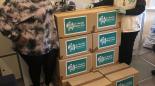 Serving those in need during the pandemic
Al Mustafa Welfare Trust launched a Coronavirus Crisis Appeal at the beginning of the outbreak of Covid-19 around the world. Our appeal is helping people who are deeply affected by the virus and are at severe risk. We have been providing nutritious food, hygiene kits, clean water and medical aid.

Countless people living in poverty have struggled with having enough food to eat due to unemployment and lockdown, and we know that without food they will struggle to stay healthy against the virus. For families living without access to clean water, it is almost impossible for them to keep hygienic and protected. With the generous support of our donors, we have been supporting vulnerable communities in Pakistan, Burma, Bangladesh, Yemen, Syria, Gaza and right here at home in the UK.
In the UK, we launched our Neighbours First project, which is a community-based initiative whereby we seek to distribute emergency food parcels and support families living in poverty and the homeless. We seek to raise awareness and tackle issues of hunger and food scarcity in the UK, with a focus on addressing childhood hunger and malnutrition.
Helping those in need at home
While we may assume the UK is a developed and wealthy country, unfortunately the reality is far from this. 8.4 million people in the UK cannot afford to eat. 4.7 million of these people live in severely food insecure homes, which means meals are often skipped or reduced and food intake and quality varies day to day.
30% of all children live in poverty. The Food Foundation estimates 1.97 million people within the UK may be undernourished, while other sources estimate this figure to be as high at 3 million.
2020 has brought greater uncertainty and challenges to people in the UK, and estimates suggest that 2 million more people will become unemployed as a result of Covid-19.
Spreading festive cheer
Al Mustafa Welfare Trust has been working with the Rotary Club of Hounslow, Hounslow Borough Council and Forwardlook Charity in order to distribute vital support packs to vulnerable people including women and young people living in secure accommodation and residential homes.

For vulnerable people in residential care homes, the pandemic poses even greater risk and causes extreme isolation, and so we are very pleased to have been able to provide some extra joy and cheer in these difficult times.

As part of our Neighbours First project and the generous support of our donors, the distribution of COVID-19 support packs were carried out this winter, and it is our hope to support even more people going forwards.
Donate to our Neighbours First project now, so that we can support even more vulnerable people this winter.