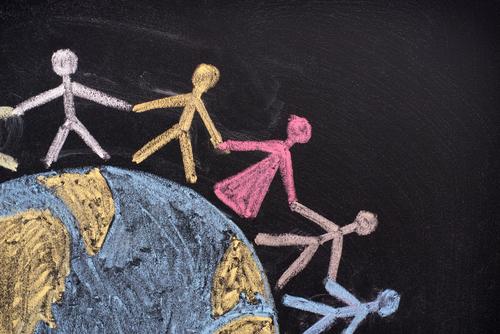 When you read the news and hear about death, destruction and suffering sweeping across the world, it can be all too easy to fall into the trap of distancing yourself from the struggles that many of our brothers and sisters face each and every day. Although we may be fortunate enough not to see the devastating effects of conflict and natural disasters first-hand, it is still our duty as Muslims to do what we can to improve quality of life and assist these vulnerable people during their hour of need.
So, join us as we wish for world peace and commit to supporting as many of these people as we can.
Our team are constantly out on the ground, fundraising and distributing vital supplies for vulnerable people in some of the worst-hit parts of the world. From support for refugee families to distributing emergency aid to areas hit by natural disasters, your generosity enables us to reach as many people as we possibly can.
Indonesia
We are currently supporting those hit by the devastating effects of the recent earthquake and tsunami in Indonesia. Emergency relief efforts have been hampered by the remote area, meaning that it is a struggle to get vital aid to some of the worst-affected areas. Our team is supplying essential provisions in the form of family food packages and emergency medicine and health care supplies – donate today to help us support those affected by this natural disaster.
Gaza
Ongoing conflict has left many residents of Gaza in desperate need of support and assistance, struggling just to survive from one day to the next. Our Gaza emergency appeal is designed to provide aid for these vulnerable people, through the provision of essential supplies like nourishing food, clean water and medical supplies to help treat the injured. Help us provide these innocent people with the hope for a brighter future.
Syria
The conflict has been raging in Syria for more than seven years – a devastating period of violence which has left countless Syrians trapped, displaced, and desperate to escape the conflict. We are committed to continually providing essential support for these vulnerable people, both Syrian refugees and those remaining in the ruins of their homes, yet we cannot send aid without your help. Join our Syria relief appeal today.
Burma
Stuck in a seemingly never-ending cycle of suffering, many Rohingya people have fled Burma to seek refuge in neighbouring Bangladesh. With ever-increasing numbers of Rohingya displaced, children are left at risk of exploitation and many of these vulnerable people are finding themselves with nowhere to go. Al Mustafa Welfare Trust is committed to lessening their burden and providing essential aid such as food, clothing, shelter and medical supplies. Consider donating to our Burma emergency appeal today and do your bit to help ease their suffering.
Even the smallest donation can go a long way towards helping our brothers and sisters as they strive to overcome the hurdles facing them. So, offer a prayer for peace and join together with us as we work towards a brighter future for all.