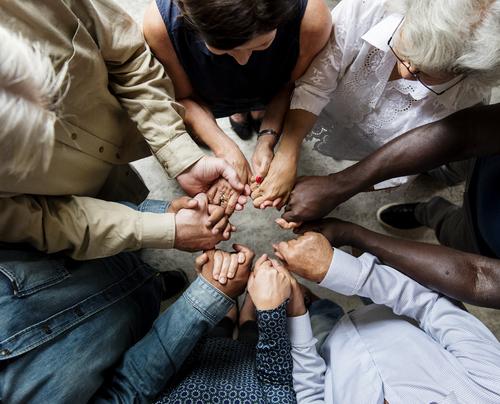 The overriding message that Islam brings us is one of unity and a desire for equality at the very simplest level. No matter who we are, where we live, or what we believe in, every single person deserves to have the same treatment and access to the most fundamental human needs.
It is our duty to inform and educate people around the world about how important the pursuit of these ideals is and to ensure that contributing towards emergency relief becomes a main priority for those in the position to help make a difference. Human rights are not a luxury; they are a necessity.
Living in Fear
Across the world, every day, thousands of families are driven from their homes fearing for their lives.
More often than not, families face a grim choice to either stay or flee. Choosing to stay would mean facing death by airstrikes and trying to escape would mean a life fearful of being captured by snipers.
Schools and hospitals have been damaged due to the brutality of war, but power cuts and medicine shortages are making daily life even harder.
These poor children and adults need to be protected and given hope for a brighter future after living in the shadow of war for so long. Not only do they need shelter, food and water facilities, they also need emotional support - especially for those who have been displaced from their families.
Those who have risked their lives and escaped have already endured suffering beyond our imagination; their reality now is being faced with the bitterly cold winter months ahead, and without adequate clothing, food or shelter, their lives are in further danger. Many of these people are also orphans, who have lost one or both of their parents to the conflict. These families need to be provided with a lifeline; they are in desperate need of emergency aid and continuous support. We can work together and ensure they are provided with the necessities they need in order to survive.
Accustomed to Luxury
For those of us who are reading this, war and conflict may merely be something we see on the news or hear about on the radio, but brothers and sisters, we need to open our eyes to what is really happening around us and put the shoe on the other foot. War and conflict are real, world disasters and emergencies are real; the distress and pain that millions of civilians around the world are going through would be a lot more real if it happened to us. But instead, we sit in our comfortable homes in front of our TV and choose to do nothing.
If every single person reading this were to donate a small amount to help those in need, the world would soon be rid of poverty. A little from everyone really can go a very long way.
World Food Day – 16th October 2018
World Food Day was created in a bid to promote awareness of those around the world suffering from famine and hunger every day - with an aim to achieve #zerohunger by 2030.
In this day and age, we have become so spoilt and seem to have become confused about what is deemed a necessity and what is classed as a luxury.
For example, nourishment is necessary to survive, but is fine dining imperative in order for us to live? There are people around us who do not have the means to eat and drink enough just to survive. And here we are, wasting food on a daily basis, overeating and overbuying – we are completely spoilt for choice. It is important for us to remain grounded and appreciate what we have and consider how the other half of the world lives.
Many of us sit behind the wheel of our luxury cars and complain about something or other every single day, without even sparing a thought for those across the world who walk miles and miles in poor weather conditions in order to obtain water in a bid to survive - most of the time, this water is dirty and contaminated, too.
Join us and raise awareness of those in need across the world.
Charities such as Al Mustafa Welfare Trust play a prominent role in helping to promote the vital message behind humanitarian issues. With matters such as this, the best way to make a difference is to spread the word on a global stage to as many people as possible. At Al Mustafa Welfare Trust, we are 100% committed to doing all that we can to spread the word and help as many individuals as possible to achieve the most basic human rights that they are entitled to.
These are just a few reasons why Al Mustafa Welfare Trust is at the forefront of the emergency relief campaign for wartorn countries such as Syria. However, spreading the word to an international or global audience doesn't happen overnight, and it certainly doesn't happen for free. As a charity and not-for-profit organisation, Al Mustafa Welfare Trust does all that it can to benefit as many disadvantaged people as possible, making funds stretch as far as possible. However, it is an unavoidable fact that without donations, there is a limit to the work that we can realistically do. Help us to spread the word and join us in doing our bit to help give basic human rights to those in need.
With your support, we aim to continue providing essentials such as water, sanitation facilities, winter essentials and items of hygiene to thousands of families in Syria and beyond.
If you would like to donate to one of our emergency appeals here at Al Mustafa Welfare Trust, give our team of volunteers a call on 0208 569 6444 or click here for more information.
Together we really can make a substantial difference.